RECOGNIZED IN NEW YORK WITH THE AWARD FOR OUTSTANDING FASHION DESIGNER
Has dressed Billy Porter, Keke Palmer and Don Diablo among others.
Published in Elle, Harper's Bazaar and Vogue.
DAIR TO BE DIFFERENT, DAIR TO BE FIRST AND DAIR TO BE YOU! DAIR COLLECTION FITS IT ALL!
Dair Design
DAIR design is a haute couture clothing line with a casual detail for both men and women. DAIR design distinguishes itself by offering different sizes, silhouettes and material combinations. DAIR collection fits it all! Odair and its team are also specialized in styling. Odair creates crossovers between the most various styles and trends, always translating this to the customers wishes.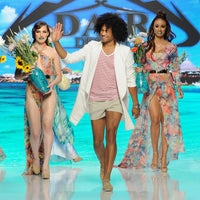 Image slide

Tell your brand's story through images
Image slide
Tell your brand's story through images